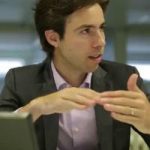 Managing Partner at Cashforce
Nicolas Christiaen is a Finance Analytics expert specialised in Cash Management and Cash Forecasting. He is CEO & Co-founder of Cashforce, a new and leading cash management & forecasting platform. With Cashforce, he has been working on international projects in the distribution & retail, manufacturing and logistics industries. He also leads the R&D department within Cashforce, making him the go-to-man for cutting-edge Cash Management technology and  practices.
Prior to founding Cashforce, Nicolas was a management consultant at PricewaterhouseCoopers.
As technology and cash specialist, Nicolas is a renowned guest speaker in the FinTech community as well as a frequent panellist at international Treasury Conferences