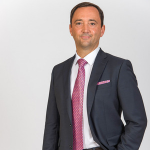 Managing Director, BELLIN
Michael Juen serves as Chief Consulting Officer (CCO) and Managing Director at BELLIN and is responsible for business operations in the areas of Consulting as well as the interdepartmental cooperation between Consulting & Implementation, Coordination and Advisory.
Michael boasts close to 25 years of combined treasury experience, highlighted by 13 years as partner and shareholder of Schwabe, Ley & Greiner GmbH, where his focus was on the implementation of TMS and consultation of cash management, liquidity planning and risk management.
Michael wears black and red when SC Freiburg are in town but embraces his Austrian roots. With one foot in both countries, Michael spends his free time at his Vienna home with his family or hitting the ski-slopes of the Austrian Alps.
Michael has a degree in business informatics from Vienna University.