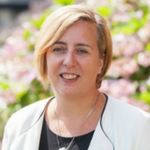 Managing partner ILFA Group
Irma is the founder of ILFA. Irma's expertise lies in solving complex financial issues that often involve stacked financing. Various forms of financing and capital components are used in this process. She connects good with people and knows how to create a positive atmosphere in a group, so special results can be achieved. She has extensive knowledge of the finance profession, but also of organizations as housing corporations, various types of care and educational institutions.
Irma is de oprichter en naamgever van ILFA. Irma's deskundigheid is gelegen in oplossen van complexe financiële vraagstukken waarbij veelal gestapelde financiering moet worden vormgegeven. Daarbij worden verschillende vormen van  financiering en vermogenscomponenten ingezet. Ze kan goed verbindingen maken met mensen en weet een positieve sfeer in een groep te creëren, waardoor er bijzondere resultaten bereikt kunnen worden. Ze heeft grote kennis van het financieringsvak, maar ook van organisaties als woningbouwcorporaties, de verschillende soorten zorginstellingen en onderwijsinstellingen.